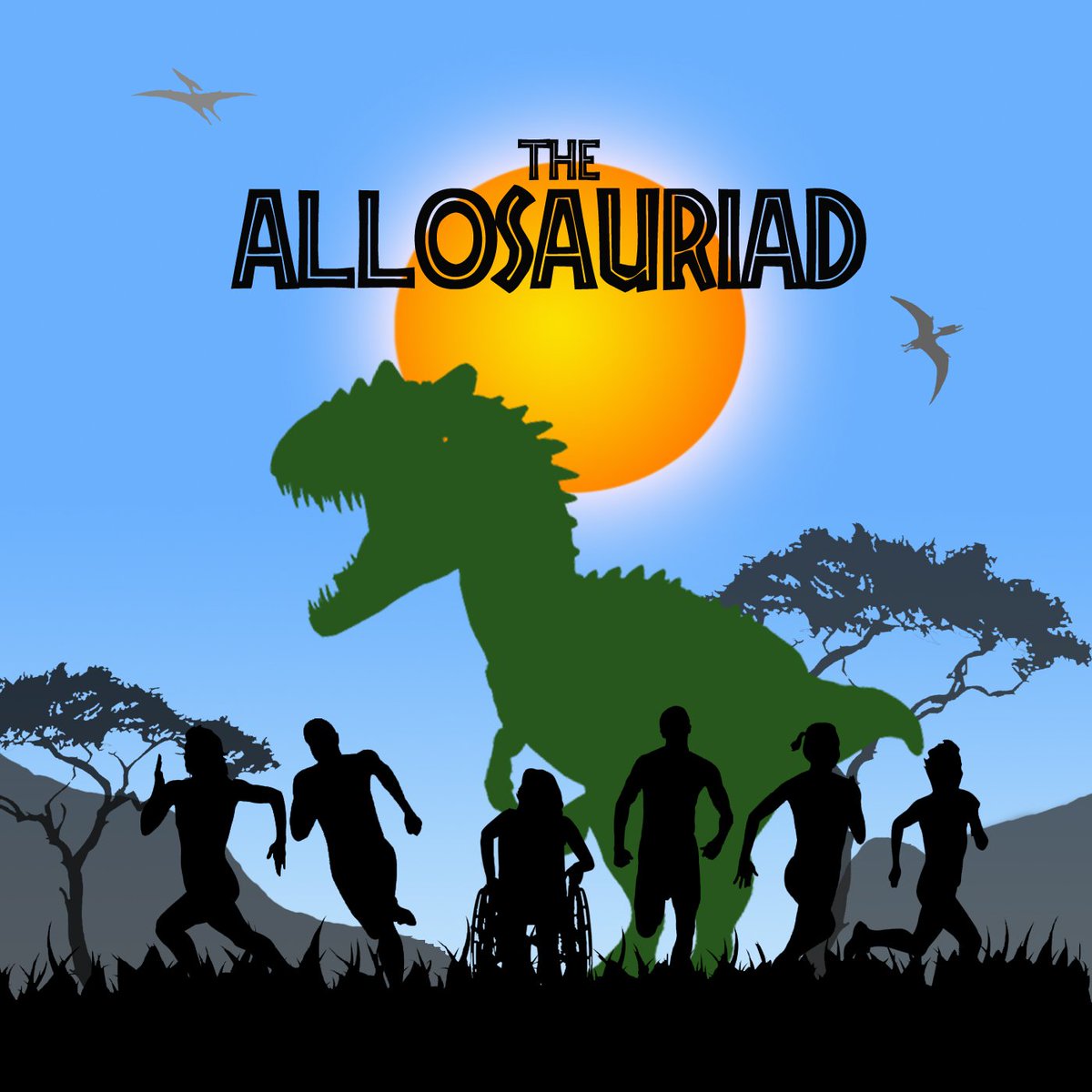 THE ALLOSAURIAD is an upcoming, episodic, audio drama podcast from the creator of the iTunes 5-star rated mini-series,

The Lovecraft Covenant

. It tells the story of an eclectic group of near-future Americans who find themselves trapped in the time of the dinosaurs. Ill-equipped, disoriented, and scared out of their minds, they must band together to survive, while slowly coming to suspect that they are not alone in the prehistoric past.
We hope to launch in early 2018. Production won't begin until after the holidays, but we're trying to lock down a cast as early as we can, so we can hit the ground running. Here are the deets.
CHARACTERS

: There will be

six core cast members

(2 cis male, 1 trans male, 3 cis female [1 disabled])
for Season 1,

plus two
recurring "guest" characters

(both cis male) who will be gone by season's end.

Casting is race- & ethnicity-neutral

; character last names and backstories can be adjusted to fit the voice actor's racial or ethnic identity, if desired. Actors in the roles will have significant input, if desired, filling in personality and back-story details not specified in the role descriptions.  Please note that

we would strongly prefer to give the role of ZIGGY to a trans male actor, the role of GIDEON to a gay male actor (he's a homoromantic ace, actually), and the role of JESSICA to a disabled actor.

Here are the character summaries from our Audition Guide (see link below); note:
FEMALE ROLES
ABIGAIL FLIGH

: Abby is an early- to mid-30s cis heterosexual woman, preferably with a soprano speaking voice. She is a blockbuster movie actress, best known for her recent starring role as the hero in that

re

-rebooted dinosaur franchise we've all heard about (that's right… they finally made a woman the hero of a dinosaur movie instead of the sidekick!). She was actually on set in Hawaii filming the 2nd installment of the re-reboot when the switch happened. Abby is originally from a small farm town in Kansas, and has a bachelor's degree in math. She gave up pursuing a master's degree to become an actress instead, but always planned to go back to school for mathematics someday. Abby specializes in playing super-confident women, possibly to hide her own deep self-doubts.


JESSICA RAMIREZ

: Jessica is a late-50s to 60s cis heterosexual woman, preferably with a contralto speaking voice. She's also a double amputee (both legs below the knee) thanks to a horrible rock climbing accident.  Jessica is a renowned wildlife photographer with a lot of outdoors experience and survival knowledge, and hates relying on others, especially those who pity her. At the same time, she is no fool, and accepts help when she knows she needs it. Born in Alaska to a military family, she has always felt rootless and out of place wherever she goes, and never really settled down, even though she always wanted a family of her own. Sometimes, she thinks that her love of animals was a subconscious substitute for never having children.


VALERIE MARCUS

: Valerie is a late teens cis bisexual woman, preferably with a tenor speaking voice. She's also 8 months pregnant when the story begins. She got pregnant the night she lost her virginity to her prom date (he was a senior, she was a junior) and originally planned to have an abortion, but changed her mind after having a dream about her daughter becoming president someday. She continued attending high school in Portland, OR, determined to become valedictorian and go on to college for a law degree. Deep down, she is one of the toughest members of the group, although she doesn't know it yet.

MALE ROLES
ZIGGY MERCURY

: Ziggy is a mid-to-late 20s trans (FTM) bisexual male, preferably with a mezzo-soprano speaking voice. He is a culinary entrepreneur and LGBTQ+ activist from Washington, D.C., where he runs a traveling food pop-up that also serves as a safe space for LGBTQ+ youth. He is engaged to his love, Freddie, and recently got insurance-approved for trans surgery (meaning he is still pre-op when he gets switched to dinosaur times). Ziggy prides himself on his culinary skills, and has a personality that is equal parts compassion and toughness. He's been thinking long-term of running for political office someday.


RYAN McCLEMORE

: Ryan is a mid-to-late 60s cis heterosexual male, preferably with a bass speaking voice. He is a long-haul truck driver and CB radio preacher who was on his retirement run through Boise, ID, before the switch. A widower with four children and seven grandchildren, Ryan has relied on his deep Christian faith to get him through tough times. He has taken a protective, grandfatherly interest in VALERIE (see Female Roles). Ryan tries to find the good in everyone he meets, hoping to emulate Jesus, but often feels overwhelmed by the pace of change in modern society. As a creationist, this whole situation is blowing his mind.


GIDEON LAWRENCE

: Gideon is an early- to mid-30s cis homoromantic asexual male, preferably with a baritone speaking voice.  He is a librarian and amateur historian from Baton Rouge, LA, where he has been closeted for most of his life, even from himself. Gideon is trying to find his self-confidence and identity, and often speaks with a hesitating tone. His lifelong passion is books, who have never betrayed him and never judged him. An introvert with a rich fantasy life, he has an encyclopedic knowledge medieval Byzantine history, and loves reading aloud to children. Unfortunately, he's also terrible in a crisis, and has trouble sticking to his decisions.

"GUEST" ROLES (BOTH CIS MALE)
DR. TAYLOR FOGG

: Taylor is a late 30s-40s cis heterosexual male, preferably with a baritone speaking voice. He is a paleobotanist with extensive field research and survival skills, and loves his job teaching biology and geology classes to undergrads at the fictional Denver City University. He is a physically-fit natural leader with an easy-going, polite (if sometimes condescending) demeanor, and adapts quickly to any situation. In other words, he's exactly the kind of guy you'd expect to be the hero of a story like this. His departure throws the group into a crisis.


PETE BLANCHARD

: Pete is a late 20s-30s cis heterosexual male, preferably with a tenor speaking voice. He is a fitness trainer from Chicago, who's been wanting to break into training celebrities. Pete is a charming egotist who sees himself as an alpha male, and has secretly always fantasized about a situation similar to the one he now finds himself in. He'd never tell the others, of course; at least, not before he's in charge.  Pete departs the story at the end of the season.

Audition lines can be found in the linked Audition Guide.
SUBMISSIONS

: As per the Guide:
Submit your three best takes of each dialogue sample. The ability to vary your vocal range and play with accents is a plus. You are free to change the lines if they feel too clunky, as long as you stay true to their meaning and narrative context. 




Please submit your recordings as .wav or .mp3 sound files. 




Send them as attachments to an email with the subject "CHARACTER NAME_YOUR NAME_ALLO-AUDITION." If you are auditioning for more than one role, please send each audition as a separate email. 



Send the email to bobby.swayback@gmail.com no later than Nov. 10, 2017.


For details, and audition lines, please download our Audition Guide, here. Be aware that the guide contains SPOILERS, so please don't blab too much!
Thanks! We look forward to hearing from you.